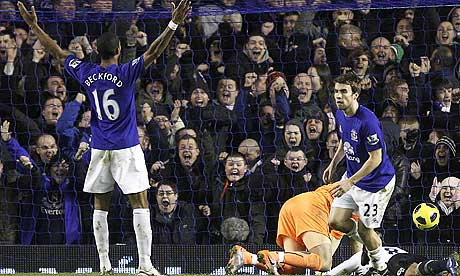 Today, Everton defeated Spurs at Goodison. It was a brilliant display, and I'm much happier I followed that match instead of the Arsenal – Man City match. I didn't really have any hopes for the Toffies, but they played perhaps the best game of the season. When Seamus Coleman scored that last goal on the diving header I let out an audible yelp in the library. It wasn't an issue since we were completely empty, so nobody heard. (Think tree in the forest type stuff…) The whole thing was extra interesting because Dr J is ostensibly a Spurs fan, and I (by way of Neil, who was at the match) am an Everton fan. I have bragging rights!
Which is rare, really. While I do support Everton my heart is still tied to the Owls, which is why it's always broken. This week they signed Reda Johnson from Plymouth Argyle, who appeared in court today on false imprisonment charges. Today Marcus Tudgay's transfer to Forest was also finalized. So we lost one of our more productive goal scorers in recent years, and may have gotten a defender (which we need) who might be going to prison for 18 months – 8 years (which we don't need). It's worth scratching your head over.
WAKE UP NEIL, I WANT TO HEAR ABOUT THE GAME.